Profile
For nearly twenty years, I have represented and counseled clients in selling their businesses, or in purchasing an operating business. Selling or buying a business is a one-time event in the life of most business owners, and can be an intimidating, confusing and perilous process. My mission and purpose is to protect my clients engaged in a business sale or purchase transaction – whether I am providing services as a broker, as an attorney, or as a consultant – and to assist them in accomplishing the best results possible. I endeavor and desire to work only with business owners and clients of integrity, helping them to sell or buy businesses of integrity and exceptional value.
In addition to my work with business sellers and buyers, I also provide general corporate and business legal advice, assisting clients in the negotiation, documentation and closing of business sale and purchase transactions, a great variety of other business transactions, business incorporations and start-ups, and commercial real estate purchase, leasing and financing transactions. All legal services are provided through my solo law practice, Stephen C. Minnich, Attorney at Law. Piedmont Business does not provide legal services.
Since 1996, I have practiced law as an attorney licensed in the State of North Carolina. Prior to going solo in 2008, I practiced law with three different Winston-Salem law firms, where my focus turned toward business sale and purchase transactions. I am an active member of the International Business Brokers Association, and past President (2015) and Board Member (2013-2015) of the Carolinas – Virginia Business Brokers Association. Through these organizations, I have studied and become familiar with the most common methodologies employed by brokers in pricing small businesses to market. In support of my business intermediary services, I have obtained licensure in North Carolina as a real estate agent, enabling me to assist my clients with business-related real estate transactions. I have also obtained certification as a Certified Business Intermediary through the International Business Brokers Association.
With a broad range of experience in law, real estate, business brokerage and finance, I bring an extraordinary breadth of skills and experience to each client representation. To any brokerage engagement, I bring twenty years of experience in addressing the business, legal and real estate issues that complicate business sale and purchase transactions.
My wife Michelle and I live in Winston-Salem, with our three children. I love God and my family, and spend most of my time running when I'm not at church, working, or at home enjoying time with Michelle and the kids.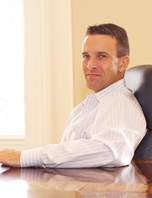 Stephen C. Minnich, J.D. Certified Business Intermediary