Why Sell Your Business with Piedmont Business?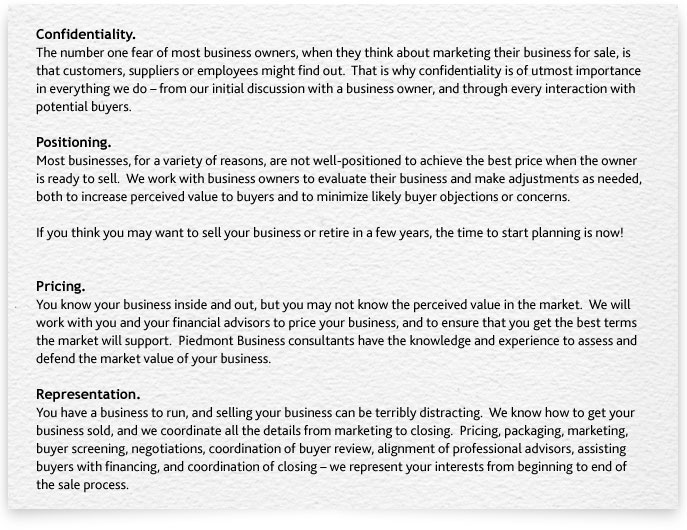 Reliable data in the business brokerage industry confirms that only 20-25% of smaller private businesses that are marketed for sale will actually sell. This is a shocking statistic to most business owners, who have been told by Firm X or Firm Y that they have a buyer interested in their business, or that they can get them twice their annual revenue for their business. A great deal of the problem arises from the fact that many business owners do not receive knowledgeable, reliable and experienced representation.
At Piedmont Business, our objective is not to list for sale as many businesses as we can, and see what sells. If we take on a seller representation, we intend to serve that business owner as if they were our only client. If we do not believe that we can sell your business, at a fair price that will make you happy, then we will not take the engagement. Further, we seek to represent only business owners of integrity and businesses of value.
After an initial meeting, if we decide to work together, our typical approach is to structure a relatively low-commitment consultation engagement. Regardless of whether you decide to market your business with Piedmont Business, your business will benefit greatly from this review. We will conduct a thorough interview and analysis of your business, identify any issues that may detract from value or possibly derail a future sale transaction, and review your financial statements to recommend a suggested market price range for your business. As a result of our initial consultation, your Piedmont Business consultant will provide recommendations to improve the positioning, marketability and value of your business. After this review, if you are prepared to market your business for sale and we agree on pricing, we will often work solely on a success fee basis.